At the September meeting of UBC's Vancouver Senate, a proposal for a new dual-degree program option was brought to the floor. This is not unusual in any way, approving new curriculum proposals is part of the normal business of Senate. This particular dual-degree proposal simply combined two already existing degree programs with only minor changes. And yet, every single student senator in attendance voted against it. Why? Because the only reason the program exists, as far as anyone can tell, is as a way for UBC to prey on naive high schoolers (and their parents), bamboozling them into committing to an expensive professional degree 4 years in advance.
The dual-degree in question is the Bachelor + Master of Management (BMM) in which students take any non-Commerce undergraduate degree and upon completion of that degree, immediately enroll in a Master of Management (MM) degree at Sauder. It was touted as a "First-in-Canada" achievement. As per Sauder's ad copy, the program is an investment in your future, giving you the skills and confidence to enter any industry and make a faster and more meaningful impact, with potentially significant implications for your earnings and your career trajectory! The key selling point seems to be that students can get two degrees in an accelerated time frame and kickstart their careers. In actuality the dual program turns the MM, usually a three-term program, into a two-term program, saving 4 months over a 5 year time span. As for kickstarting a career, the MM is basically a crash-course version of a B.Com. degree and MM graduates can expect to still be competing for the same entry-level jobs as other graduates with Bachelor's degrees.
The real reason the university launched the BMM program: MM tuition currently costs $26,819.00 for domestic students and $38,819.00 for international students. The reason it's a first in Canada is because no other school in Canada is sketchy enough to sell Master degrees to high school students. The entire purpose of this program seems to rely on trying to lock those students into an expensive professional program 4 years ahead of time.
In fact the curriculum proposal, while of dubious benefit, was not the source of the student senators' objections. It was the tuition proposal in which students in the BMM program will be required to pay a portion of MM tuition on top of their regular undergraduate course fees and prior to commencing the MM portion of the dual degree program. This is shown in the schedule below.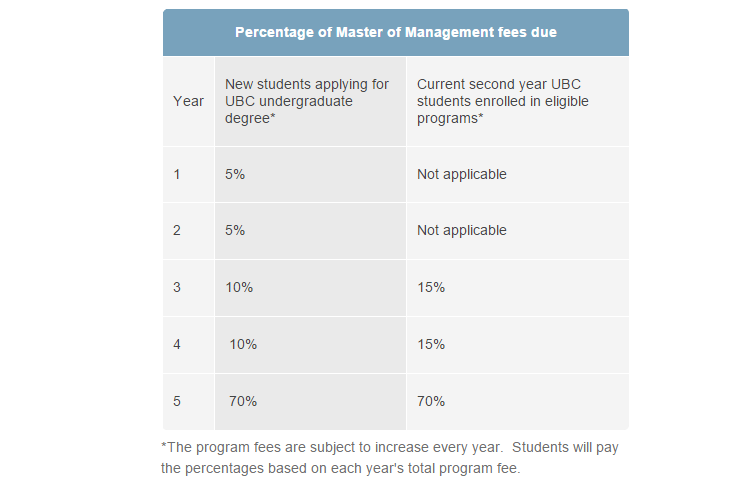 The problem with this payment schedule is that students are not enrolled in the MM portion of the program until after the completion of the undergraduate portion. The Senate Proposal (starting at page 119) was quite clear on this point:
Essentially, students would be admitted to and pursue the undergraduate degree program, and if they meet the dual degree program option continuation requirements through completion of their undergraduate program, they would then be formally admitted and enrolled in the MM program. While students in the Dual Degree Program Option are completing their undergraduate program, they are not graduate students.
In short, students are being required to pay fees towards a program they are not actually enrolled in.
UBC officials have compared this to making deposits on the degree, or putting the degree on layaway. This might be somewhat acceptable if enrollment in the BMM program provided guaranteed admission to the MM portion (it does not) or if the deposits made were refundable (they are not). Students can be withdrawn from the program on an involuntary basis, and under no circumstances will any of the MM tuition paid be returned.
What if your interests change during your undergrad and you no longer wish to pursue the MM program? Well, have a good life, and thanks for paying thousands of dollars of tuition towards a program you'll never even start. What if you don't achieve the required continuation requirements and are involuntarily withdrawn from the MM program? Thanks for the cash, and don't let the door hit your ass on the way out.
It gets worse. To put this payment plan in place, pretty much all oversight was sidestepped. The university counsel's position is that it is exempt from Policy #71: Consultation with Students about Tuition and Mandatory Fees because the overall amount of tuition is unchanged, conveniently ignoring the fact that a change in the payment schedule still qualifies as a change to tuition. Who else supports the notion that a change in payment schedule constitutes a change to tuition? The Provost's office. Here's their website about new program approvals:
13. Student Consultation and Board of Governors approval are required if the tuition is different from standard tuition, or if extra fees are involved in the new program, or if there is a new schedule of tuition payments (in the case of a dual degree program option). The Faculty must respond in writing to any significant issues raised in the Student Consultation Report.
BMM is a dual degree program option for which there is a new schedule of tuition payments. Hard to get more clear cut than that. Yet students were not consulted about the new payment schedule and the Board of Governors did not approve it. The provost's office is now claiming that this text is a mistake. Whoops!!!
(Note: Here's a PDF'd version of the page on the date this post was published for comparison when the website is scrubbed clean of any pesky "mistakes".)
Oh, and this tuition proposal almost certainly violates the province's tuition limit policy too.
While everyone has been busy focusing this fall on increases to housing and international tuition fees, and the media collectively removing its blinders only long enough to write pointless reactionary articles about Vantage college, proposals like this one have mostly managed to escape notice. It's a shame, because it's not the only one like it, and the provost's office is currently trying to push a blanket policy through the Board of Governors that would officially remove any and all oversight from tuition proposals for future dual degrees, making this into standard operating procedure.