The UBC Vancouver Senate will be holding its November meeting this Wednesday. Here's a rundown of some notable items on the Agenda.

Soon-to-be UBC Alumni
UBC's fall 2015 convocation will be held from November 25-27. Procedures dictate that Senate needs to formally approve the granting of degrees, so they'll be doing that in time for next week's festivities. Congratulations to all graduates – enjoy your sheet cake while desperately trying to stay out of the rain.
Policy revision: Graduate student leaves of absence
A few years ago, UBC's Faculty of Graduate And Post-Doctoral Studies instituted a policy wherein grad students must remain continuously registered with the university for the duration of their degree. As any good wonk will know, policy often begets more policy. While there were some good reasons for putting the continuous registration rule being in place, there are even more reasons why a grad student might need to take a break from their studies – maybe they have a new baby, or a significant surgery, or any number of other personal reasons. As a result, another policy had to be generated to regulate a class of registration where students are deemed to be "on leave". Students are still registered, fulfilling the continuous registration mandate, but are given a different status that recognizes they have temporarily stepped away from their program.
This policy governing this "on leave" status is Senate policy V302.1, and small revisions are being proposed. The existing policy bars students on leave from accessing any and all university services while on leave. If this policy was enforced as written, it would have created situations such as a student taking parental leave who is no longer eligible to live in Acadia Park, or a student taking a leave due to mental health issues who is no longer eligible to attend counselling sessions. The revised policy clarifies that academic or research work towards the student's degree should not be undertaken while on leave, but that students may have access to other non-academic services the university offers on a case-by-case basis.
Policy revision: Doctoral dissertations
This revision introduces language to make clear that, except when personal safety concerns exist, the faculty of Graduate and Postdoctoral Studies will post the date, time, and location of upcoming doctoral defenses. This is something G+PS already does and you can check out upcoming PhD defenses here.
Routine business
Changes to Vantage College transition requirements: students in the Vantage Arts stream must pass all courses with an average of at least 60% to transition to second year.
Changes to Master's and Doctoral applications: applicants will now be allowed to submit unofficial transcripts with their initial application. Official documents will still be required for formal admission.
The International Nutrition major will be suspending admission and the program will be discontinued.
Bunch of new awards.
New courses in Commerce, and Land and Food Systems
Master of Data Science program
This is a new program offered jointly by the departments of Statistics and Computer Science. Get your buzzword bingo cards out, here is how they describe it: "This program will focus on utilizing descriptive and prescriptive techniques to extract and analyze data from both unstructured and structured forms and to communicate the findings of those analyses to guide prescriptive change in organizations."
As usual, tuition is not mentioned, but it's projected to be $30,000 (domestic) and $40,000 (international). The entire program is only 30 credits over a 10-month period. I'll leave you with this flow chart of prerequisites which is… an interesting presentation for a program that promises to teach you how to organize big messy data sets. This has probably inspired UBC to create a new $30k "Master of Data Visualization" degree for people to learn how to make it not look like this.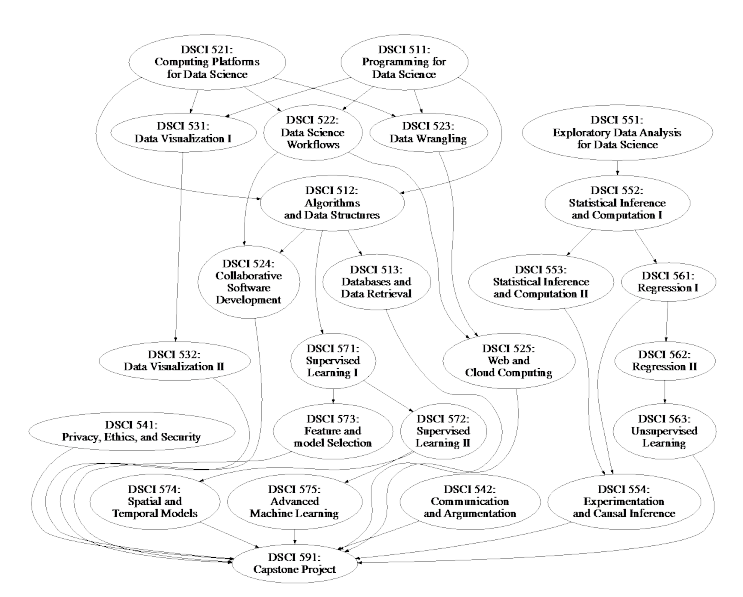 Master of High Performance Coaching and Technical Leadership
This is a new program from the School of Kinesiology. The stated aim of the program is to "develop coaches with the competence to contribute to medal performances in international competition" and "to collaborate in strategic and operational leadership of a high performance sport program." So if – similar to the gentleman scholar known as T-Pain – all you do is win, win, win, no matter what, this is your program. This is also a 30-credit program but is designed to be undertaken part-time over 24-48 months. As such, the program is delivered almost entirely online, except for 2 one-week sessions that take place at UBC. Tuition was pitched at $22,000 (domestic) and $37,000 though that may change before it gets to the Board.
Appointments to Appointment Committees
Louise Cowin (VP Students) and Helen Burt (AVP Research and International) are up for re-appointments to their current positions. Senators will be named to the advisory committees examining those re-appointments.
Tributes Committee – IN CAMERA
The first rule of tributes committee is: don't talk about tributes committee. That's why this discussion, about who UBC should give an honourary degree to, will be held in camera. I do hope that someone, with complete sincerity, will nominate Drake for an honourary degree. Specifically, that someone should be Gurvir Sangha, who should then look wistfully out the window* before adding, "maybe then Drake will finally notice us."
*We are fully aware that Senate takes place in a basement classroom with no exterior windows. Just trying to set the scene here.