Let me start by publicly declaring that I am a huge fan of how UBC's Public Realm project has turned out so far. The transformation of Main Mall into a wide pedestrian thoroughfare instead of its previous use as private road for Plant Ops is one of those things that adds immeasurable value to the everyday lives of all people at UBC. Building a fuller network of pathways purposely built for pedestrian movement has made getting around campus far more pleasant, and has also largely addressed the previous problem of having puddles everywhere that were large enough to swim in.
The great success of the Public Realm improvements is perhaps why the plan currently being proposed for Start an Evolution donor recognition seems so bad in comparison. The project would build two criss-crossing pedestrian paths in front of the new Alumni Centre. Embedded in the paths at staggered intervals will be 20 poles, standing as tall as 2.8m, containing the names of donors to UBC's Start an Evolution fundraising campaign. Here's the bird's eye view of how that would look: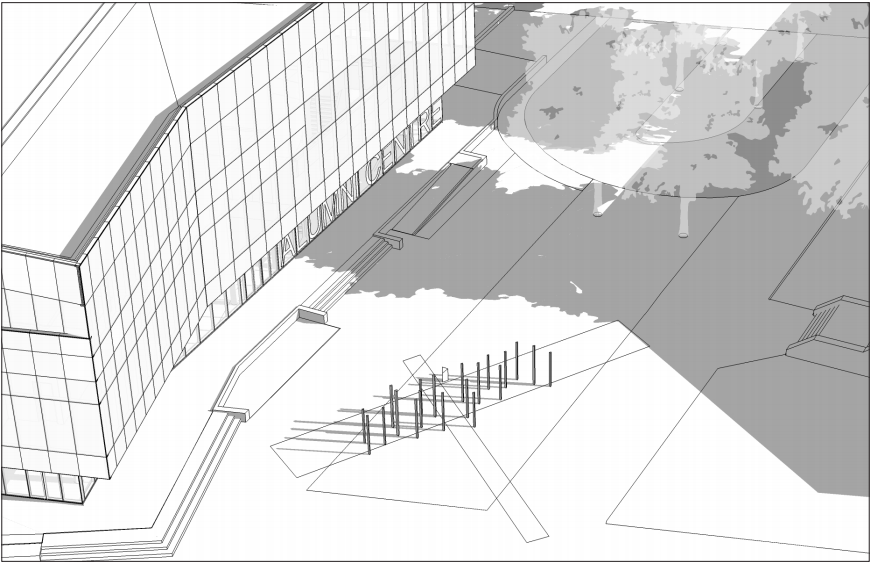 These pathways are close to the trolley bus loop on University Boulevard and will provide a natural route for people going to or from those bus stops, meaning that it should be expected that these paths will be well-traveled. It's hard to think of worse designs for a busy sidewalk than to deliberately obstruct half of its width with giant poles. The real disconnect between the mindset of the designers and of pedestrians is that the whole point of putting the poles in the middle of the sidewalk is as a way to force people to look at them. See the designers' idyllic scenario below: not only do you have giant poles obstructing you, but it is also intended that people will just be standing around, further blocking the way.
Let's try and learn from Yaletown about what not to do. These donor recognition poles could go lots of places where they could have equally prominent placement without being a nuisance.