Chances are that at some point in your daily life you have witnessed, heard or seen someone act in a way that was derogatory, degrading, abusive or violent towards women. Be it in the form of a joke, cat call, comment, put down, or physical or sexual assault, this is all violence against women.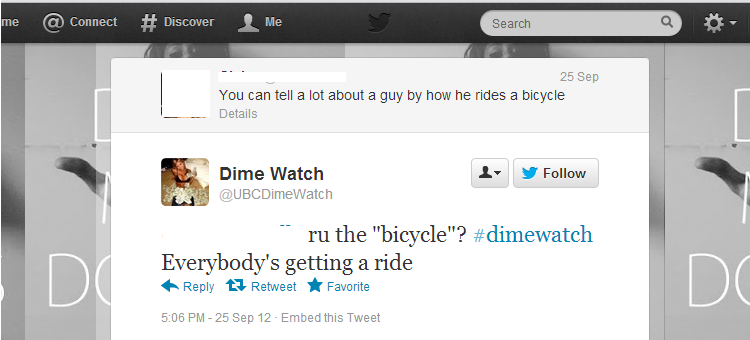 The twitter account @UBCDimewatch was deleted today. Its stated aim was to find "dimes" (attractive women) at UBC. However, for months, it was much more frequently a repository of blatantly sexist put downs aimed at women, like the one above. It also contained "creepshots" – candid photos of unknowing women along with comments making reference to certain parts of their anatomy. It was sleazy. The evidence now strongly suggests it was the work of a group of members of the UBC Men's Hockey team.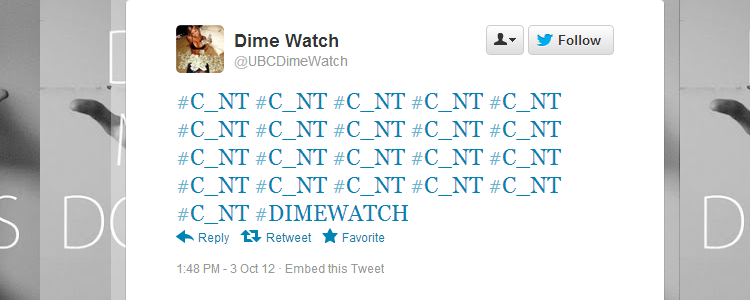 Yesterday morning, the @UBCDimewatch account unveiled a related website, thedimewatch.com. This website was registered to "Big Dog" Ben Schmidt, a player on the UBC Thunderbirds Men's Hockey team. The website registration information was quickly made private shortly after this fact was revealed, though Schmidt does acknowledge registering the domain and building the website.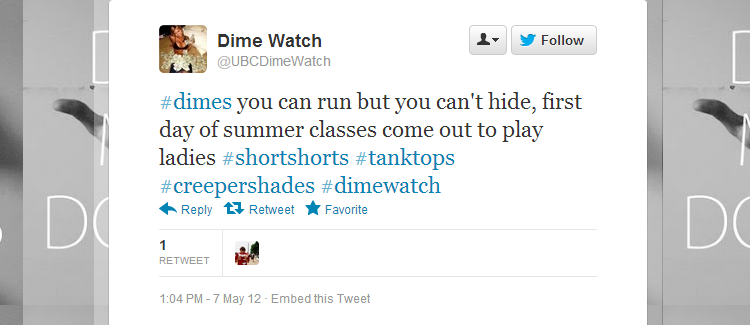 Schmidt, while not running from the domain registration, is hiding from any connection to @UBCDimewatch. He disavows all of the content of the website and the twitter feed and claims to have been hired by "a friend" to construct the website, nothing more. He has not elaborated on who his "friend" in this case is.
It seems plausible, likely even, that multiple people were behind the @UBCDimewatch account. Ilan Cumberbirch, another Thunderbirds hockey player, said Schmidt was innocent. He tweeted (and has since deleted): "@ubcinsiders sleep at night, seen some scumbag detective work in my day, sewering innocent citizens #NoCredibility #WrongfulAccusation #JOKE"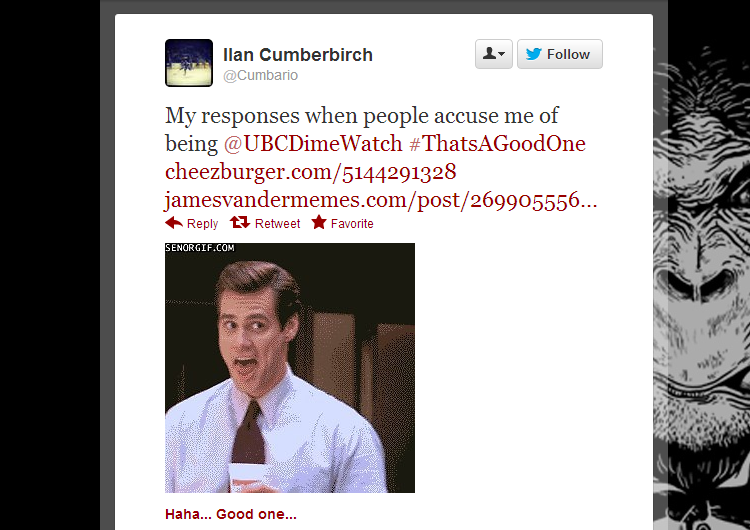 So it should not come as a surprise to learn that other people have accused Cumberbirch of being involved too (see above). It is merely a coincidence, no doubt, that Cumberbirch and the mysterious party behind @UBCDimewatch both use the same model of 3-year old Blackberry phone to take photos.
In another bizarre coincidence, Schmidt also uses the same model phone, as a "follower" who sumitted a photo to @UBCDimewatch.
Regardless of who exactly was involved, a typical observer would come to the conclusion that whoever was tweeting from this account was more than likely a player on the UBC Men's hockey team.
Be More Than A Bystander
This poster is currently up on a board in the SUB.
The UBC Thunderbirds are taking part in the "Be More Than a Bystander" campaign, aimed at combatting violence against women, violence which can include a "joke, cat call, comment, put down". The essence of the campaign is to encourage people to speak up when they witness violence against women, to call people out when they're insulting and objectifying women, in order to create "a culture that no longer sits idly by, condoning violence against women through its silence."
The Thunderbird athletes putatively behind @UBCDimewatch were the ones initiating violence against women exactly as described in this campaign by composing a consistent stream of sexist comments, jokes, and put downs. Yesterday, people decided to "be more than a bystander" and to speak up against it. The response of many of UBC's student athletes and their friends was to then direct their harassment towards anyone who pointed out and challenged @UBCDimewatch's inappropriate behaviour. Personal attacks continue to be directed my way. An AMS councillor who engaged in the fray was labelled a bitch by an athlete, a sentiment subsequently echoed by other athletes and friends.
UBC's student athletes are representatives of the university. Once UBC caught wind of this all this morning, the fallout was swift. Tweets were deleted from personal accounts, as well as a number of other vulgar anonymous accounts clearly run by UBC student athletes. But the true colours of many of UBC's student athletes were made very clear last night. Supportive of outright sexism and harassment.
Shame on the UBC student athletes who think it's acceptable to insult and objectify women.
Shame on those who harrass people who oppose and challenge this sexist and inappropriate behaviour.
Shame on those that think both of these unacceptable behaviours should be allowed to be conducted anonymously.
I'm going to continue to be more than a bystander and say: shame on them.