In February, the role of VP Administration was renamed to VP Student Services to better reflect the nature of the role; that is, to provide services for students such as maintaining MASS, booking meeting rooms, locker rentals, and coordinating the ever-popular Free Cookie Day.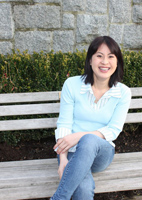 Name: Elaine Kuo (Twitter, Facebook, Website)
Please express your campaign platform in the form of a haiku. (Bonus points if you submit your haiku in the form of a video.)
Great services that
More people should know about.
Better promotion
Elaine's platform haiku video
What is your actual platform?
I want to better promote the services that the AUS offers. I was not even aware of the services provided by the AUS until last year. Students often feel disconnected from their student government bodies. Someone once told me that "If I vote, stuff happens. If I don't vote, stuff still happens." I want to reach out to students and engage them in the process of improving current AUS services and creating new ones that they think would be useful. Ultimately, the AUS exists to serve Arts students and what is most important is to serve them how they would like to be served.
How will you improve upon the current services provided to students?
I would like to improve upon current AUS services by making everything available in one place and streamlining the processes for renting lockers as well as booking MASS. Currently, people have to purchase a locker rental form from the Outpost if they want to rent a locker. I think we should be able to provide some locker rental forms at the AUS office or online instead of sending them on a trip to the SUB that takes an extra five minutes. I would also like to create an online form for booking MASS that can be sent directly to the MASS Bookings Coordinator who can then answer the bookings requests with the appropriate invoices and contracts to be filled out and or signed. Also, to ensure that the services are meeting the needs of Arts students, I would like to evaluate the services by having students fill out a survey that can be entered in a random draw for a prize (i.e. $50 gift card for the UBC Bookstore).
In celebration of Cookie Days, please provide your favourite cookie recipe here.
Chocolate Chip Oatmeal Cookies
Ingredients:
2/3 cup butter, softened
3/4 cup and 1 tbsp and 1 tsp packed brown sugar
1/3 cup white sugar
1-1/3 eggs
1 tablespoon and 1 teaspoon milk
3/4 teaspoon vanilla extract
1 cup and 3 tablespoons all-purpose flour
3/4 teaspoon baking soda
1/4 teaspoon salt
1-2/3 cups rolled oats
1-1/3 cups semi-sweet chocolate chips
2/3 cups chopped walnuts (optional)
Directions:
- Preheat oven to 375 degrees F (190 degrees C)
- Beat together margarine and sugars until creamy. Add eggs, milk and vanilla extract and beat well. Add combined flour, baking soda and salt; mix well. Stir in oats, chocolate chips and walnuts; mix well.
- Drop by rounded tablespoonfuls onto ungreased cookie sheet. Bake 9-10 mins. Cool for 1 minute on cookie sheet; remove to wire rack.
In which house would the Sorting Hat put you? Why?
In all the online quizzes that I have ever completed, I've been sorted into either Gryffindor or Hufflepuff, but I think my personality would suit Hufflepuff better because I'm fiercely loyal, very diligent, and I've been told that I have the patience of a saint.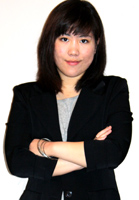 Name: Joanne Kim (Facebook)
Please express your campaign platform in the form of a haiku. (Bonus points if you submit your haiku in the form of a video.)
Less stress in planning
Serve relevant student needs
MASS symbolize Arts
What is your actual platform?
In the administrative side, I want to establish MASS as a social, comfortable space with distinctive Arts culture, and actually use the display cases for posters and announcements; I would also update the AUS website frequently with AUS Council meetings. My two big plans for this position, though, is firstly to help clubs and arts students in organizing events, using my past experiences in booking and dealing with various regulations to help them work out the logistics of their plans. The second is to work with various Arts services like Arts Co-Op, Arts Advising, etc. to organize event that address relevant student needs.
How will you improve upon the current services provided to students?
Fundamentally, I want to make AUS services more approachable and accessible to students. That will include myself personally – Arts students will be able to get in touch with me easily with their concerns and suggestions through email or during my office hours. But more importantly, I want to work with clubs and students and walk them through the administrative aspect of things such as bookings, dealing with Plant Operations, etc. so they do not need to figure everything out by themselves. I've been through the whole process planning events for the FYC so I understand how daunting it can be. I would also like to work with the future executives to organize events that serve students in a more practical way. Cookie days are awesome, but things like info nights on choosing a major or finding involvement opportunities that will introduce students to helpful Arts services are also necessary.
In celebration of Cookie Days, please provide your favourite cookie recipe here.
BEST CHOCOLATE CHIP COOKIES EVER :)
Ingredients:
1 cup butter, softened
1 cup white sugar
1 cup packed brown sugar
2 eggs
2 teaspoons vanilla extract
3 cups all-purpose flour
1 teaspoon baking soda
2 teaspoons hot water
1/2 teaspoon salt
2 cups semisweet chocolate chips
1 cup chopped walnuts
Directions:
Preheat oven to 350 degrees F (175 degrees C).
Cream together the butter, white sugar, and brown sugar until smooth. Beat in the eggs one at a time, then stir in the vanilla. Dissolve baking soda in hot water. Add to batter along with salt. Stir in flour, chocolate chips, and nuts. Drop by large spoonfuls onto ungreased pans.
Bake for about 10 minutes in the preheated oven, or until edges are nicely browned.
In which house would the Sorting Hat put you? Why?
Well, I keep getting Hufflepuff in those sorting hat quizzes. That was a little disappointing at first – I mean, come on, the other three houses take their pick and the leftover, unchosen's go to Hufflepuff – but I'm starting to warm up to the idea. I think that I have a little bit of each house in myself, a little bit of the integrity of Gryffindor, a little Ravenclaw logic and rationality, even some Slytherin, rather than belonging to one house exclusively. Overall, I see myself as hardworking than exceptionally talented in a certain area. Plus Cedric Diggory was a Hufflepuff and I always liked that character!