The newly-created position of VP Student Life oversees all social events put on by the AUS, including Arts Week and Orientations activities. The VP Student Life will work closely with the Social Coordinators, Promotions Coordinator, as well as volunteers in order to put on successful events.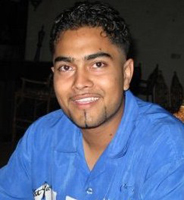 Name: Harsev Oshan (Facebook, Website)
Please express your campaign platform in the form of a haiku.
To be honest, I have no idea what a haiku is. I did Google it and asked around, but I do not want to take a risk at getting it wrong. Instead, I leave you with a Swahili (Kenyan National Language) saying: Maneno mema hutoa nyoka pangoni: Means the right method can get a snake out of its hole. I am using this simply to illustrate that if Arts students are given the right activities to do or awesome events to attend, Arts can regain its pride.
What is your actual platform?
My actual platform: Back to my Swahili saying, organize the right activities that will foster a stronger Arts spirit and make Arts a force to be reckoned with.
Given that this is a new position, what are some things you hope to achieve? How will you make my student life better?
How I intend to improve student life. I have a five point plan:
- Work with Jump start and GALA to come up with an action plan that will make sure that each orientation is unique in its own way instead of being repetitions;
- Work with i.House on prioritizing assisting Arts international students for a set period during the course of a week;
- Changing locations and injecting creativity into Arts traditions and social events. Most arts activities lack the flair that would attract a huge crowd. I find it disappointing that the AUS has not yet successfully promoted its events well enough to get to full capacity when it has the largest undergraduate society on campus;
- Putting Arts Freshness back into Fraush and Arts week! It's a shame that for the biggest faculty on campus, majority of first year students have no idea that Arts have a Fraush or are not interested in it. Arts week needs to mark the week when UBC turns purple! Arts has to conquer UBC!
- Finally, building Arts spirit. Work on club codes to get clubs more involved with AUS. In addition, get a representative in the RHA (Residence Hall Association) so that we can reach arts students living on campus.
How will you work effectively with your Social Coordinators and Promotions Coordinator?
How will I work effectively with my team? My experience should speak for itself.
- Teamwork and interpersonal skills: I founded an entertainment label in Kenya, worked with a Media house and various other NGO's where I led committees in successfully organizing nation wide social events, beach parties, street bashes, fund raisers etc.
- Administrative and Negotiation skills: As the procurement officer of the Aga Khan Academy in Mombasa, I negotiated prices with International and Local suppliers for goods and services that were needed by the institution. I maintained relationships and worked with a team of professionals to streamline the financial department.
Party on: The Knoll or the bouncy bushes? Hollywood or Vegas? Pluto or the moon? Provide reasoning.
You can organize a party anywhere on campus, you just need to have the authorities, weather, UBC on your side and have the creativity to make the event unique. But for the choices provided:
Knoll or bouncy bushes? I would go for the bouncy bushes. I can organize a foam party with an inflatable dance pit and roof. You can't tell me university students will pass up the opportunity to get wet in soap and party all night;
Hollywood or Vegas? Never been to either but I would pick a beach over dry land any day! Throw a two day beach sports event (beach sports like rugby, volleyball, soccer, next to a dance floor, drinks on the side, water sports in the water) Now that is something you wouldn't wanna miss;
Pluto or the Moon? I would rather stay on planet earth!
Please provide us with an entertaining anecdote.
keep talking about creativity and sparking up some excitement in events. An example, when a person drives a car with his hands, its normal, it's cliche! But when Mr. Bean drove his tiny little car with his feet, it was hilarious! Wanna know why, it was funny, unique and outright genius!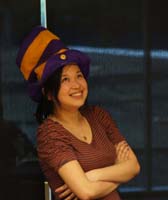 Name: Jenny Chen (Twitter, Facebook)
Please express your campaign platform in the form of a haiku.
Think outside the box
Happy comes with company
Hard work pays off now
What is your actual platform?
Frosh:
- Create a memorable group bonding experience for all first years
- Engage them to become more involved
Cooperation with GALA:
- Welcome international students into the faculty
- Create strong relationships from the beginning between international students and AUS
Imagine Day:
- Promote spirit by purchasing Arts flags for Imagine Day
- Combine AUS booth with Arts clubs to show unity within faculty Arts Week:
- Improve Arts week attendance and spirit through wrist band sales + sale of Arts merchandise
- Work with Arts clubs to showcase their best events
Arts Merchandise:
- Design competition among Arts students for best designs for merchandise
Given that this is a new position, what are some things you hope to achieve? How will you make my student life better?
Even though this is a new position, I have worked on most of the events within the portfolio, which gives me an insight on what needs to be changed. I am hoping to achieve overall heightened Arts spirit through large faculty events such as Frosh, Imagine Day, and Arts Week. I believe that one of the most untapped resources on campus is first year and international students. They come into university full of energy and are eager to get involved. I want to get them informed and excited about being in the Arts faculty through the means of an inspiring Frosh as well as an
energy filled Imagine Day and GALA event. Another one of my main concerns is AUS' relationship with the Arts clubs. We need to be more proactive when it comes to helping our clubs gain more recognition on campus. I want to close the gap between AUS and the clubs by working closely with them for Imagine Day and Arts week. I want to sit down with club presidents and discuss exactly what kind of support they would like from AUS in order to get more students involved. I believe that through first year students as well as Arts clubs, we will be able to reach a wider demographic of students as well as increase overall spirit on campus.
How will you work effectively with your Social Coordinators and Promotions Coordinator?
As Social Coordinator this year, I understand the importance of the position and the amount of planning required for throwing a successful event. If elected, I will be working closely with the Social and Promotions Coordinators to ensure we hold the best events possible for the upcoming year. I think one of the best strategic plans is to sit down with them during the summer and plan out our year. Once we have decided our game plan, we will be able to hire our teams right away once school starts, following the buzz and excitement of Imagine day.
Party on: The Knoll or the bouncy bushes? Hollywood or Vegas? Pluto or the moon? Provide reasoning.
The Knoll: The height, the slopes, and the rubble underneath, need I say more?
Hollywood: We are all super stars, so let's be treated as such!
Moon: Whether it is made out of cheese or not, I have always been a fan of the song "Fly Me to the Moon". Frank Sinatra always knew how to have a good time.
What house would the sorting hat put you in?
The sorting hat would put me to go study with Hagrid as he knows there needs to be a successor. I love odd creatures and things and it would definitely be an experience like no other.