A rundown of the candidates for the uncontested races (VP Internal, VP External, VP Academic, VP Finance). Candidates for VP Internal and VP External did not submit a response.
VP Academic
The role of the VP Academic is to liaise with academic resources on campus and make them readily available to Arts students. The VP Academic also oversees the distribution of funding for students holding or attending conferences. A recent addition to the VP Academic portfolio is to plan Meet the Dean sessions with Arts Dean Gage Averill, which was formerly the responsibility of the VP External.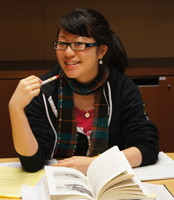 Name: Tanya Shum (Twitter, Facebook, blog)
Please express your campaign platform in the form of a haiku.
Clocks tick, people write
But I make school a blast
As Academic
What is your actual platform?
We all know school can sometimes be a drag, but as VP Academic, I will try to make academic life as fun as possible! I will heavily promote academic related events, and assist students in finding resources that will enhance their academic life. I want to make the space around MASS study friendly, which means making it more comfortable and accessible! I'm thinking carpets, and some more home-y furniture. Maybe also have little treats and stationery on the table each day. I will also do my best to fix the printer in MASS!
Given that the 'Meet the Dean' sessions now fall under the VP Academic portfolio, how will you get that started? How will you make sure students come out to the event?
I'm very excited to have the Meet he Dean sessions under my portfolio! I've met the Dean Averill a few times, and he's genuinely a great guy. He is always so friendly and really wants to meet students on a personal level. I feel since arts is so large, the Dean is not really well known among the students. But I really want to change that and really foster good relations with the Dean and the students. How will I make sure students come? Def free food! And a really low key atmosphere where you can come and chill out and chat with the Dean and some academic advisors. I also want to encourage especially first years to come out to the sessions! As a first year student myself straight out of high school, I felt like a tiny fish in a big pond (very cliché, I know). But I want them to feel a part of the UBC community and help them chose their academic path.
If you could create your own degree, what would it be? Why? Be as creative as you can!
My own degree? Probably a degree in Leadership and Philanthropy, two things I am passionate about. I think I'd also like to see an undergraduate journalism program at UBC! Now being creative…. definitely a Bachelors in Reality Television. So you'd take courses on how to watch reality television critically and what motivations are behind each popular show (yes, there's a reason behind Jersey Shore).Within that, there'd FOR SURE be the following mandatory courses: Ryan Seacrest 101, Reality Television and Degradation to the American Mind 102, Jersey Shore 205, Marketing in Reality Television 279, Purpose of Reality Shows 308, Why your favourites always end up 2nd place 288, Why won't Survivor get cancelled 358 and finally, Why Brad Womack gets all the ladies 489. I think a cool graduating assignment would be to create your own reality show that reflects today's trends and modern culture. Wow, I got really carried away with that question… I think it's obvious I watch too much reality TV.
In which house would the Sorting Hat place you? Why?
Slytherin, hands down. Me and Draco Malfoy were just meant to be…
***
VP Finance
The VP Finance is responsible for creating a budget and ensuring that the AUS is in sound financial shape. The VP Finance also oversees grants for clubs, students, and other campus partners. In 2010, a key change made by VP Finance Justin Yang was the creation of the role of Internal Auditor to allow for a second perspective on the prudence of budget items.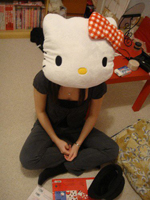 Name: Jennifer Qi (Facebook)
Please express your campaign platform in the form of a haiku.
Here at AUS
Uncontested candidate
Seems to be the trend
What is your actual platform?
I want more people to participate or at least be interested in the AUS. This year, the majority of the VP candidates are running uncontested. CUS had just had an awesome election with gazillions of candidates with more than 30% voter turnout. AUS receives only a couple hundred votes, even though we're by far the biggest faculty on campus. That is really depressing and I think this needs to change. I don't think putting up posters work, because a hypothetical apathetic student is not going to look at a poster and think, "Oh my god! It's a poster about an organization that I've never heard of or cared about, and now I think I'm going to go ahead and vote!"
There have been many ways by which clubs were previously funded (points system, applications, etc). How will you work with clubs to ensure a fair amount of funding?
First of all, it's really cool to have the clubs sit on council because I appreciate having the opportunity to hear all the event that's happening on campus without having to pay any registration fees. Ideally I want to get involved in all the clubs to have an understanding of how each club operates and how much funding they should receive. I also want to allocate a portion of my time (probably before or after council meetings) for clubs to come talk to me if they need to discuss finance, and generally try to stay in touch with them as much as possible because they do constitute roughly half the council.
How will you work to promote the Clubs fund? Alternately, what other changes would you make?
I think Brian touched on a really crucial point when he proposed to change club representation on council. To the best of my recollection, the only people I can remember talking or debating on council was Kyle, Kyle, and Kyle. I think I'm over exaggerating, but my point being that with the presidents representing each club, we should see an increase in active participation which will also facilitate a good environment to promote services like the Clubs Fund. I also think some of the applications forms like the Dean's Grant and Clubs Fund will have to be updated.
In which House would the Sorting Hat place you? Please explain.
It would put me in Ravenclaw because that's where you find the only Chinese character in Harry Potter.